ScooterGal Confidential' s first ever contest was a success. We received several photos from ScooterGals throughout the US and Canada. Each gal showcased her own style, panache, and especially her love for her scooter.
Our winning photo comes from Elizabeth J. who sent in a snappy photo of her with her scooter and a smart beret. We loved it! Elizabeth wins a cool Bon Bon address book and a marv Bon Bon mini-poster!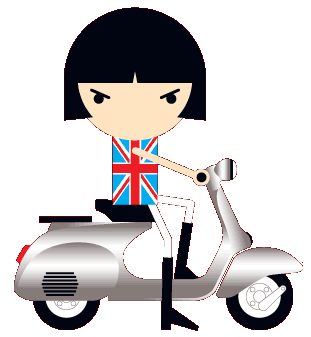 Check out Bon Bon's site for cool merchandise!
We are so pleased with our results that we have also posted our Runner Up photos in our Readers Photos section. Check them out. These ScooterGals win Bon Bon sticker packs!
Didn't get to contribute this time? Keep your eyes peeled for another contest before the end of the year!