Scooter Pajamas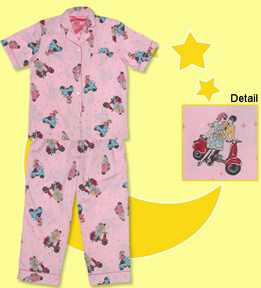 You'd be so nice to come home to...
The link for these pajamas was sent by one of our readers, Stacey B. who not only knows a cool scooter item when she sees it, but was one of our finalists in the ScooterGal contest. Thanks, Stacey!
While the site doesn't let you now much more about the pajamas other than the pic, the price ($54) and the sizes (S-XL) I think they are cute and very apropriate for scooter sleepovers, camp-outs or when you just want it to be known that you even dream about scooters. I have not ordered them, but if you have a pair, email me and let me know how the are! You can get your own pair at Sleepyheads.com.
Scootering Lady Coffee Mug Set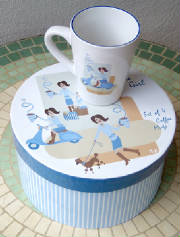 Re-gift the other three...
I happened upon this mug set at Marshall's when I found the bathing suit which was in a previous Scoooter Collector. The mug set features four different mugs in a hatbox which has all four illustrations on it. I paid a small $9.99 for the set, although I was uninterested in the other three mugs, so it makes it seem like more than I wanted to pay for one mug and a box.
Just another symptom of scooter-itis!
First Friends Scooter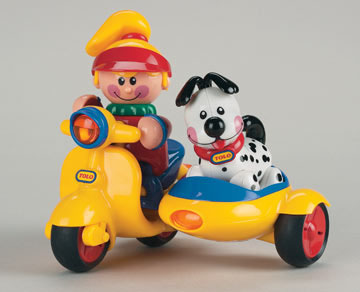 Gretchen and Annika came through again with another cool scooter toy. They found this absolutely adorable scooter toy with a cute girl and her even cuter dog who rides in the sidecar. It tugged at my heart-strings, making me wish I had my own dog to ride on my scooter.
The toy is made of sturdy plastic with large, smooth, brightly colored components that will be great for little hands and won't go far into into little mouths. The doll and dog are cute on their own as is the scooter. The toy is made by Tolo Toys which is distributed in the US and Canada by Small World Toys. Their site offers a dealer locator which found two shops within 10 miles of my house. The site does not have prices, but I was told that it cost less than $15. I'll update you on what I paid when I actually get one in my hands.