You've heard the stories of people that find low-mileage GSs covered in mud behind old barns. Rumors circulate about rare scooters that have languished in garages for decades and are bought for a song. Well, this is one such story--complete with pictures--of how a sad, run-down VBB found its way out of obscurity and back to beauty.



On a ride to the Mt. Hamilton Observatory in San Jose, I was approached by a motorcyclist. He mentioned that he had an old scooter rusting in his back yard that he wanted to get rid of. Conveniently, he lived a few miles from my work, so I made an appointment to go check it out.



Figuring that he was probably mistaken and actually had a moped, I went with no expectations. It turned out that he had a 1961 Cushman VBB in his yeard. It was taken apart and mostly stripped. Parts sat oxidizing in a box next to the frame. It had surface rust, but seemed promising. Sine he was about to move, the motorcyclist gave me the bike for free, and even offered to drop it off at my house. When I finally received the scooter, I decided that since I paid nothing for it, I should put money into fixing the bike.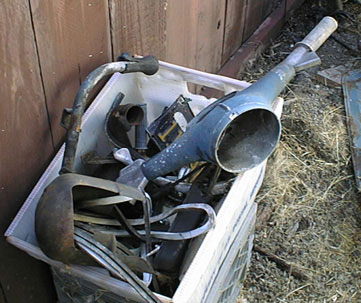 The box of rusty parts
Selecting the paint proved to be very difficult. Pouring through swatch books was daunting. There seems to be an endless array of metalic forrest greens out there! I wanted a "non-girlie pastel." Something soft that wouldn't be found on an easter egg. I settled on a smoky-blue and took the bike to the shop to have the engine rebuilt and frame painted. It should be said here, that when I use the word "I" it really means "I got my boyfriend Jon to..." since he did the lion's share of work on the bike. [Thanks, Jon!]
Well, it has taken over a year to get the scooter riding and appearing at scooter rallies. So much has gone into getting it together. There was an engine rebuild and paint job from SouthBay Scooter Works in Santa Clara, CA [now closed their doors]. I bought various custom bits from places such as in Vietnam (chrome brake lever, stainless steel exhaust), Leassac in Singapore (red rubber set with cowl "rubber" that is actually plastic and has since faded to pink). We even bought chrome bolts and screw from Orchard Supply (very expensive). The scooter is running, albeit we're still trying to figure out the jetting for the pipe and the pipe itself is for a bike with 10-inch wheels and the bike has 8-inch. A new, adjustable rear shock helped raise the bike in order to not hit the pipe on leeft turns. You can see the transformation below.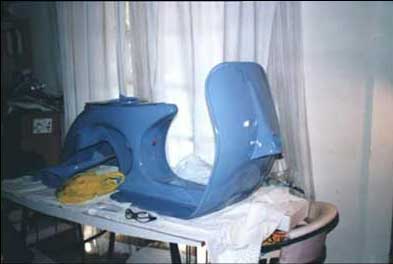 Assembling in the livingroom.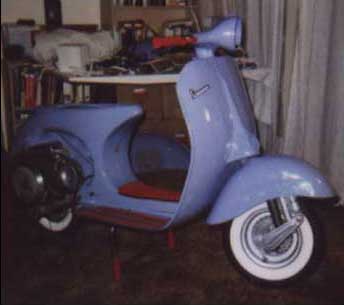 We actually started it indoors!
After 2 years of riding.